Many of us use the Internet to plan and organize vacations and holidays. When everything can be done online, from finding info about a certain destination to booking tickets and hotel, the companies related to travel and tourism industry are naturally taking advantage of their presence on the Web. Reaping the fruits of ever emerging Web technologies, travel businesses have a wide choice of tools to create attractive and engaging websites. In this post we will try to dissect the trends in modern travel website design and define the main features a site of a travel related company should include for the best impact.

Large-scale Professional Photographs
Most of the travel websites rely heavily on big, attractive pictures. Indeed, professional digital photos dominating a site's main page are, by far, the most straight-forward way to convince a visitor of the destination's or service's appeal. Designers often apply some effects and filters to photos to achieve the best visual impact. Photographs are widely used as website backgrounds, besides flash photo slideshows can be often seen on this type of websites as well.
Paradise Travel Agency Template by FlashMint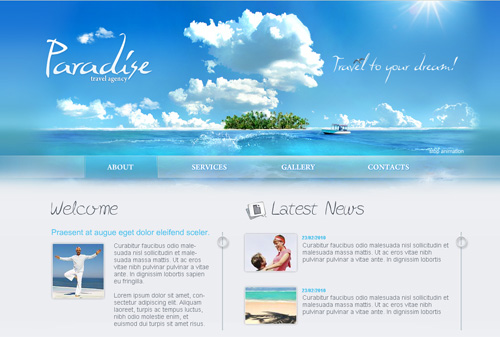 Story Telling
Appeal to people's fancy and personal values is an effective motivation and persuasion tool. The planet Earth is very beautiful and one may have hard times trying to choose a place to visit just browsing tons of attractive photos.  Whether it is narrative or visual, interesting story that involves a website visitor into the ambiance of the presented destination, is a great way to grab the visitor's attention and make them choose you.
Subtle jQuery Interactivity
Smooth jQuery-based elements are often used on websites related to tourism and resort industry because of the unobtrusive interactivity they provide. jQuery components don't require much time to load yet make a website browsing experience more exciting.
Social Media
The importance of the social media integration can be hardly overrated today. While developing a website for travel agency, hotel or resort, be sure to make the links to social networks and bookmaking websites prominent so that people who have visited the presented destination could easily share their impressions, pictures and recommendations with their friends on Facebook, Tiwtter, Flickr and other major social sites.
Incredible Flash Effects
Many travel websites combine static structure with dynamic Flash effects. Fancy Flash photo gallery or video on the main page can do a great job attracting the visitors' attention. Flash is also the perfect tool to create a specific promotional campaign for some resort or place of interest. On some websites featured in the showcase below you can see incredible 3D effects and animations that can be implemented with Flash only. By means of these effects a simple website becomes a mind-blowing virtual journey that delivers a really special experience to the site visitors.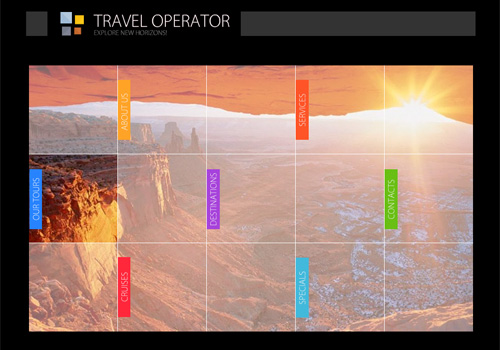 Examples of beautiful and creative travel website design
Aerial View Tour of New York City
The Really Wild Travel Company
Travel Company Template by FlashMint
Information about Australian holidays and Travel
If you are working on a design of a website for a travel company, hotel or resort organization, remember FlashMint is a good place to start. Trendy Flash templates and jQuery components can be a great base for a successful website of this kind.

Related posts:
Follow FlashMint on Twitter for more awesome Flash Tutorials!

"Like" FlashMint FaceBook Page to stay in touch!
5 Responses to "Travel Industry Websites: Design Trends and Best Examples"