Blogging has become an essential part of every day life. For some people blog is a hobby, for other it's a workplace, but both groups of people would agree that blogging is a powerful marketing tool for brand and self-promotion.
The first step for blogging is to select a proper platform. WordPress and Tumblr are the most popular solutions for this purpose. Of course both platforms have their advantages and drawbacks, and your choice depends on your personal demands and requirements.
Tumblr is an easy-to-use blog platform that allows users to share any kind of content easily and freely. To work on this platform you don't need to install any additional software, so that you could start blogging at once without applying any additional settings.
WordPress platform is known for its big range of plugins that help to extend site's functionality greatly.
Let's compare WordPress and Tumblr by such properties as audience, usability, social networking, reliability and search engine optimization to help you select the ideal platform that fits your business objectives properly.
Audience
Since Tumblr is picture-oriented (images and photos are the most popular content posted on this platform), it works better for highly visual industries: design, photography, fashion, printing
etc. That's why Tumblr audience involves young people that tend to creative activity.
Wordpress is usually used by bloggers that prefer to post lengthy texts, and that's the reason why its fans present an older audience.
Usability
Tumblr is an easy-to- use platform that doesn't require any extra technical skills and knowledge. This service is completely free, so you don't have to install additional software on you server. All you need is to pick up a Tumblr theme and start producing and sharing any type of content: photo, text, video, music and the like.
With the help of bright and cute Tumblr themes you can set a Tumblr blog within a few minutes:
10 Colors Premium Tumblr Theme
★
★
Multi-colored Premium Tumblr Theme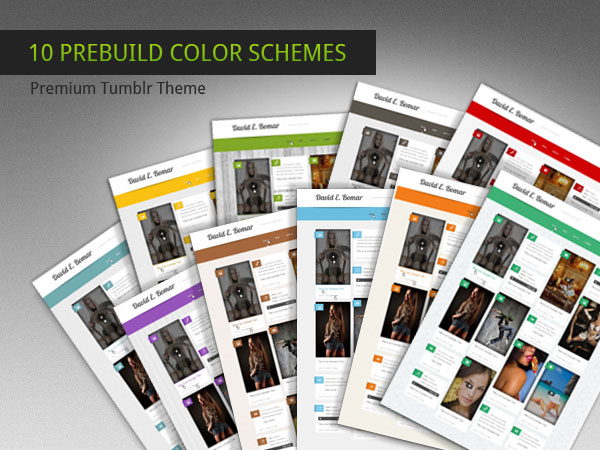 ★
Tumblr Theme with 10 Color Skins
★
Gallery Portfolio Theme for Tumblr
★
Premium Responsive Thumblr Theme
★
Responsive Tumblr Theme with Slider
★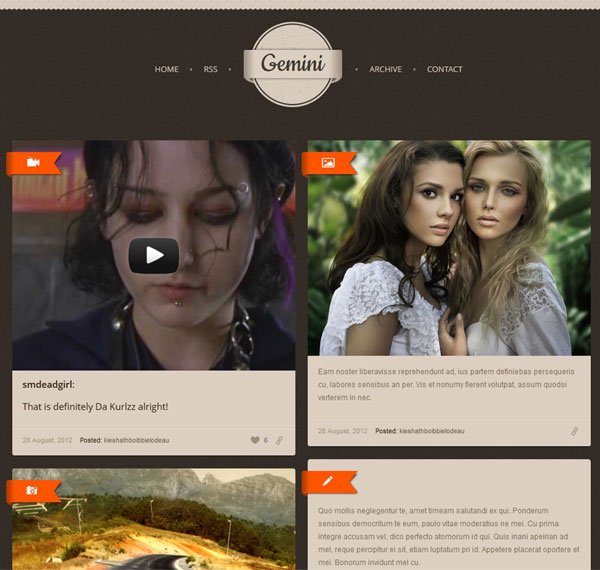 ★
10 in 1 Minimalist Tumblr Theme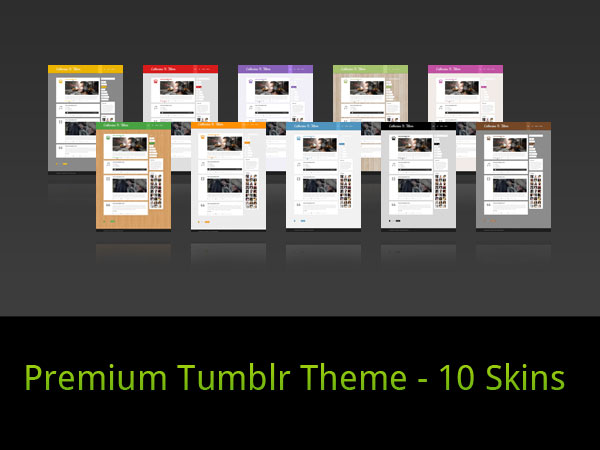 ★
★
Minimalist Design Theme for Tumblr
★
★
As for WordPress platform it isn't as simple as Tumblr and requires corresponding level of technical knowledge to install plugins and widgets. If you are a tech geek you may look for the WordPress tutorials, reviews and on the community forums).
Social Networking
Tumblr provides users with a very helpful option of reblogging their posts. This social marketing tool helps to lure more attention to your blog activity. Your followers may also ask you any questions or submit some content on your blog with the help of "ask" and "submit" boxes.
Some users consider WordPress not so powerful regarding social networking, as the only ways to connect with their followers are the comments and links to the other social media profiles.
So Tumblr is considered better at backlinking than WordPress. Also Tumblr allows users to search for tumblogs based on their interests. That's another Tumblr advantage in terms of social networking, as it's easier to make a reader subscribe to your Tumblr blog than to make an accidental visitor sign up to the RSS feed of your WordPress blog.
Reliability
Tumblr hosting seems to be the only significant weakness of the platform. Without an ability to self-host (as you do have with WordPress), the users are dependent on their servers. And with a WordPress blog you'll rarely face this problem.
Search Engine Optimization
As for SEO, WordPress gives more opportunities to use this important marketing tool, providing variety of SEO plugins, while Tumblr doesn't pay much attention to search engine optimization tools. So probably it would be easier to get your Worpress blog to the top of Google rankings than your Tumblog.
★
To select a proper blog platform you need to know the goal, the audience of your perspective blog and the type of content you are going to post. If your brand is visually-oriented, and the vast of your content would be images and video, if you are aiming for luring a younger audience but you are not extremely tech savvy, Tumblr blog would be a perfect solution for you. The system is easy-to-use, flexible and provides powerful tools for social marketing.
In case you are planning to post lengthy text articles intended for older audience, WordPress will be the perfect option for you. Moreover, you'll be able to make use of SEO plugins to draw more target audience to your website.
We attempted an impartial analysis of two leading blogging platforms - Tumblr and WordPress – and tried to identify the major strengths and weaknesses of both options. Now it's your turn to make decisions and try out any platform to your like. Good luck with your professional blogs!
Related posts:
Follow FlashMint on Twitter for more awesome Flash Tutorials!

"Like" FlashMint FaceBook Page to stay in touch!
3 Responses to "Tumblr vs. WordPress: Where to Blog?"