We continue to observe the web design trends in various production and business areas. Today the subject of our investigation is web design for automotive industry. Let's find out what features are common for this group of websites and how major evangelists and suppliers of beautiful life principles manage to attract customers to their products online.
One obvious tendency you can notice while reading this post is that most automotive companies use flash websites to present themselves on the Web. No other platform can handle such a high level of interactivity and visual experience and these are what nearly all automobile brand websites stand for.
Top-Notch Technology
Just as modern automotive industry integrates the latest technologies in its production, the websites of the industry giants also implement the most up-to-date web building tools to provide interactive, impressive and engaging web experiences. In most cases websites of large automotive brands, including promotional sites, are built with Flash. It results in a plenty of dynamic effects, enhanced interactivity and unique visual feedback. Many auto website designers take advantage of 3D and augmented reality effects. Flash websites work perfectly for automobile market as they provide a variety of media files and flash effects allowing visitors to explore the car's capabilities and feel the brand to the fullest.
Examples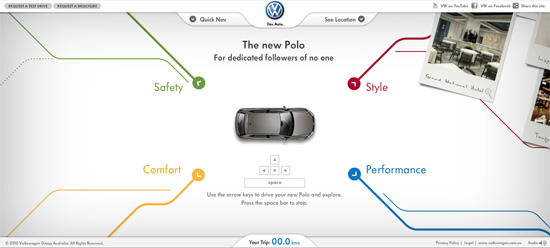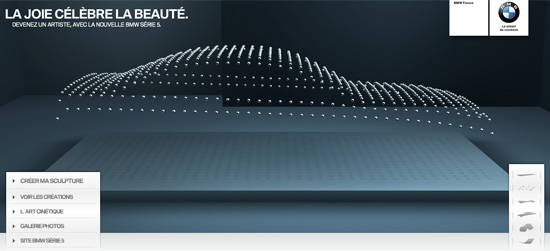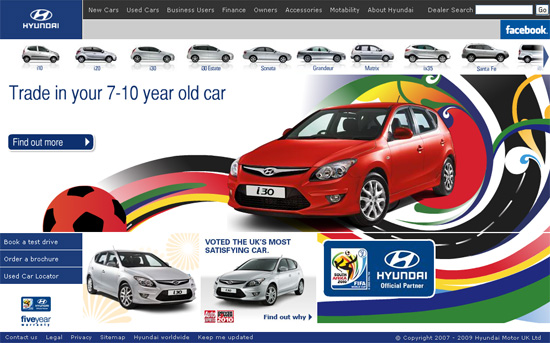 Intro Pages
Intro splash pages are sometimes claimed to be outdated, but in our opinion, it depends on the type of a site and the goals it's intended to reach. Thus, intro pages on automotive brand websites often contain some video or animation, which adds the visual performance and immediately shows the greatest possibilities of a promoted car to the user. Video and animation are powerful tools for delivering necessary message to the website visitor and if well timed it can be a quite effective web design element. It's important to remember though, that a splash page should have a prominent Skip or Close button and it's recommended to keep the intro video short. By the way, you can see the best practices of intro page design and some unique flash intro templates in our Gallery.
Examples
Story Telling
Automotive industry is the world's leader in branding and marketing. Very often world's most recognized ads and marketing campaigns are developed by auto producing companies. Each vehicle produced by a certain company has its target audience, a particular set of features and thus, a unique story. By looking through this showcase you'll notice that story telling is the most widespread and effective technique that is used on promotional websites to convey the brand and attract a potential customer. Automotive brands often associate their products with some objects, feelings and experiences most of us value throughout life. Websites showcased below engage users in playing games, customizing car appearance, conducting virtual test dives, modeling their dream cars and taking part in many other interactive experiences. No doubt, advanced Flash technology is used for such websites.
Examples
Social Media Integration
The active use of social media integration is common in the modern automotive website design.  Most websites include social media sharing bars, so that a visitor could suggest a site to their friends and followers on Facebook, Twitter and other social networks. Besides, many website involve a user into different interactive activities that are connected with their Facebook accounts. This way the website browsing experience becomes more personalized and thus, effective. See the best examples below.
Examples
Mini-Sites
Usually, motor vehicle companies prefer to host a number of micro sites under their main domains referring to each automobile model on their product list. Each micro site has a unique design and represents a particular vehicle, feature, update or promo action. However, there is a common practice to create separate websites for large campaigns or long-term initiatives.
Examples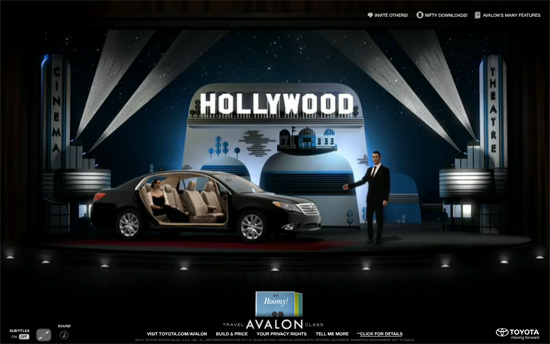 Related posts:
Follow FlashMint on Twitter for more awesome Flash Tutorials!

"Like" FlashMint FaceBook Page to stay in touch!