MacBook Air Giveaway Reckons Up
Not long ago we were hosting a thrilling MacBook Air Giveaway with all FlashMint.com customers. The event went extremely well and a big thanks goes out to everyone who participated!
We hope that all of you are now enjoying the  websites built on the basis of our web templates.
Just like Mitchell LeBlanc who has bought PhotoStudio Papervision 3D XML Flash Template for his girlfriend building a beautiful Photo portfolio website.
Purchasing the template Mitch has won the world's thinnest notebook which he is extremely happy about. Have a look at his shining face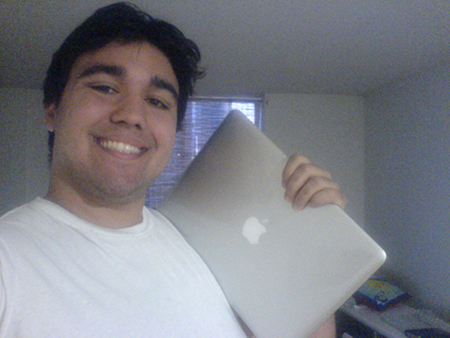 Well done Mitchell! Hope you will take full advantage of the Air!

Our next winner can be You as more exciting giveaways will come shortly! So stay tuned and who knows maybe you will ride the luck with FlashMint.com next adventure!
Related posts:
MacBook Air Giveaway Sum Up As you may have guessed from the title this...
MacBook Air Giveaway from FlashMint Buy any FlashMint web templates starting from April 02...
One Response to "MacBook Air Giveaway Reckons Up"
Cool pic My congrats to you, Mitchell