In this article we'll take a look at the websites of the major alcoholic drink brands to see what common design patterns they use and whether this works for attracting the web users.
Age and Location Verification Pages
Birth date confirmation is something that can be seen on nearly every site of alcohol producing companies. This element is mainly used to ensure that the website owners don't encourage underage drinking. No doubt, this is a quite controversial point since the user can enter any date of birth they want and access the site content, whatever age they are of. Not a very effective precaution, huh? By the way, there are no laws in the US or Canada requiring the use of age verification screen. Still, the majority of companies do this as a part of their corporate policy. The problem is that practically all splash pages of this type are unusable while a couple of simplifications would make the age verification page much more user-friendly. Thus, instead of asking the visitor to enter their full date of birth, it would be enough to ask if they are of drinking age in their country of residence. Here are some examples of simple age verification pages:
Another thing that could make for improving the alcohol website accessibility is an automatic detection of the user's location. This is quite easy to do with Google Analytics or IP trackers. Below you can see a couple of websites that automatically identify visitor's country of residence and thus, are easier to browse.
The Use of Flash
Although there many HTML-based websites of alcohol drinks now, Flash designs are still prevailing in this niche. The main reason for this is the luxurious and exclusive nature of the products that alcohol companies want to convey via website design. Here dynamics and interactivity provided by Flash may come in handy. However, many alcohol-related websites (but not all) shows the overuse of flash effects which harms the user experience significantly.The use of jQuery effects and big high-quality photographs can be a good alternative to flash. This is well depicted on the following examples.
Social Media Integration
With the popularity of social networks it's no surprise that the producers of alcoholic beverages want to take advantage of it. Practically all well-known brands have pages on Facebook, Youtube and other major social networks. It's interesting that many alcohol websites include Share bars so that people could mention the site on social bookmark services as well.
Recipes and extra activities
The rule "Content is king" is urgent for alcohol websites as well. Very often besides basic info about the product range offered by a certain company, alcohol websites include some exclusive content, like cocktail recipes, drink-related stories, information on the current events and PR campaigns (sports, extreme activities, fashion – depending on the image of the represented drink), etc. Sometimes you can even find games and entertaining activities available on such websites. Getting the visitors amused and involved into some online product-related activity is an effective way to single out among competitors and attract people to the websites, and thus, the promoted alcoholic drink.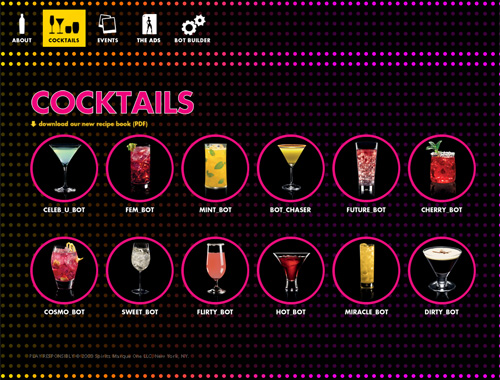 Outdated Design Elements
It is ironic that while featuring some trendy elements, like 3D objects for instance, very often alcohol websites are designed with 2001 in mind. For example, many websites include automatically triggered audio and video intros without any intuitive controls. It's not a sin to add some music or video effects to highlight the style of the site, but the volume controls and ability to disable or skip videos is a necessity. Unfortunately, this seemingly obvious rule is often ignored by alcohol website designers owners. Small and unreadable typography and disregard of screen resolution optimization are widespread problems too.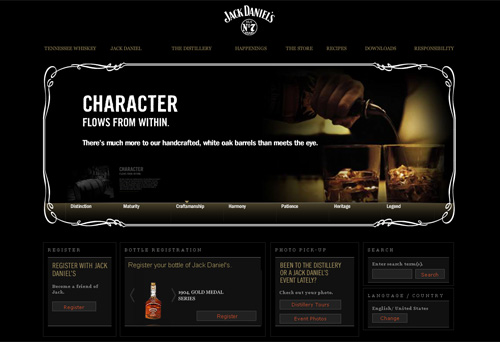 Now that we've discussed some of the trends and common features of modern alcohol-related websites, let's take a look at 25 websites of top-class alcoholic drink manufacturers. Notice, the websites were chosen because they belong to popular companies rather than because they are the best practices of the alcohol web design style.
Related posts:
Follow FlashMint on Twitter for more awesome Flash Tutorials!

"Like" FlashMint FaceBook Page to stay in touch!
7 Responses to "Alcohol Website Design: Trends and Examples"