Dear Friends,
Christmas time is coming along in its regularly quick way. We all know that people go little crazy when it comes to Christmas sales, offers, marketing campaigns and just having fun. On this special occasion, FlashMint has prepared exclusive collection of web templates, files and resources inspired by Christmas spirit and devoted to evoke the most heartwarming and joyous emotions.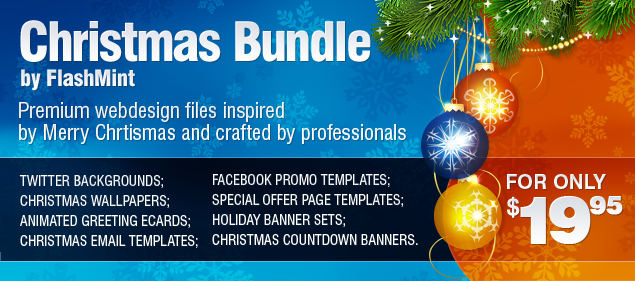 Whether you are planning to run huge campaign or sale, promote your business or simply cheer up your friends and fans with holiday greetings, FlashMint Christmas Bundle is exactly what you need and even more. We have designed 100% exclusive web design elements, files and resources that will help you build stunning greeting campaign for business and personal purposes:
Christmas greeting ecards;
Inspiring holiday wallpapers;
Amazing Twitter backgrounds;
Christmas email templates;
Facebook promo templates;
Special offer page templates;
Christmas banners.
Seize the opportunity to make memorable greeting campaign for your business clients, customers, fans, friends and family. Boost your sales this Christmas and make your customers like you more. This is probably your only chance to grab such amazing Christmas files and resources for unbelievable price. Be sure to act, go ahead and buy FlashMint Christmas Bundle now!
Best regards from FlashMint Team.
Related posts:
Follow FlashMint on Twitter for more awesome Flash Tutorials!

"Like" FlashMint FaceBook Page to stay in touch!