Get one year of Free Web Hosting with Flash Templates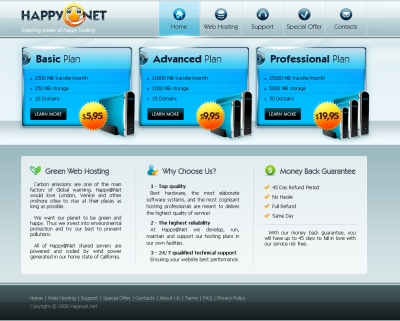 FlashMint, being the leading provider of Flash templates is doing its best to make your online life as easier and enjoyable as possible. Not only we provide you with the best website templates but give you the most needed web services you can trust and rely on. FlashMint partners are what you need to make your website running and running successfully. We partner only those web services providers that had proven to be the most reliable and secure. So what is the first thing essential to make your beautiful website working for your prosperity? It's web hosting of course. The good and reliable host is a key to success.
What is a web hosting service? This service allows you to have your website accessible via the World Wide Web. Web hosting companies provide space on their servers for you to have your website accessible. Besides, many Hosting companies provide domain names.
FlashMint is glad to introduce you to our partner
Happy@Net
- the
best hosting provider
you can find.
Happy@Net is a reliable hosting company that guarantees 99.9% uptime, knowledgeable 24/7 support and a 45-day money back guarantee. Connectivity and bandwidth Happy@Net provides are almost impossible to find anywhere else.
Besides, being highly concerned about environmental protection Happy@Net offers green hosting plans. IT sector brings out a huge amount of carbon emissions and is one of the main causes of Global worming. Happy@Net reduces the world's harmful influence upon the nature and uses renewable energy both for powering and for cooling their servers. Moreover, they invest in Green-e certified Renewable Energy Credits (RECs). RECs are tradable credits that confirm that 1 megawatt-hour of electricity was generated from a renewable energy resource. You can be sure your Happy@Net hosted website won't make harm to the environment.
The main thing that makes a good host the best one is of course tech support. Happy@Net provides the most knowledgeable and reliable 24/7 support. Their tech-savvy team is always there to help you solve any issue you may face.
Being FlashMint client you can get yourself this great hosting service with a marvelous discount of 50% with the promo code we provide with every web template purchased.