Why Drupal? The answer is quite obvious for some webmasters – it's free and flexible. The flexibility and scalability are achieved by the means of its modulatiry. Besides, Drupal is known for its passionate and lively community, tirelessly developing things, fixing bugs and helping each other. So why not to try this CMS? Especially if you are not too keen on coding and don't possess profound technical skills to build your websites up from scratch.
With over four thousand modules existing today, virtually any type of functionality can be implemented in your Drupal website and any type of content can be presented there. With Drupal you don't have to be a professional webmaster, a programming or coding guru, and you are still able to create a functional and usable website. Once you have installed Drupal, you get a number of opportunities that can and should be used for the benefit of your prospective projects. What can you actually do with Drupal to enhance your website and overall workflow?
Today We'd like to offer you the 9-step guide on making Drupal websites rock:
Use WYSIWYG Editor
Since we decided that being coding guru isn't required for using Drupal, let's realize this thesis by installing TinyMCE Module. This module exempts you from the obligation of formatting content in bare HTML code. It elevates the formatting and editing process from coding to the convenient visual format most newbie users are familiar with.
Make Contact Form Work
It has long been known, that every respectable website must have a contact form. Some way of interaction with site visitors is always helpful, especially if you run a blog or an ecommerce store. First, we need to activate the Contact Module by accessing it at Administer -> Site Building -> Modules. Don't forget to commit to the action by hitting Save Configuration. The Contact Form settings can be configured via Administer -> Site Building -> Contact Form -> Settings. After saving the form setting we need to actually associate the module with the site. We create a category via the Add Category tab and name it something like 'Send Feedback' and assign it an email address we wish to use for getting messages. At this point the Contact From becomes accessible at www.mywebsite.com/contact. To link this page to the site menu we go to Administer -> Site building -> Menus -> Primary Links -> Items and add the Contact Form URL mentioned earlier to the new item.
Enhance Drupal Search
Search tool is quite important for convenience of users navigation throughout your website. Inability to find the proper information by putting a single word you remember about it may be frustrating, therefore having a handy Search tool on your website is also an integral part of netiquette towards your audience. Just like in case with contact forms, the activation of search function starts with module. We do it by navigating to Administer -> Site building -> Modules, checkmarking Search module and saving the configuration. A Search field will appear on the left side of your website. Now at Administer -> Site configuration -> Search settings we define some necessary rules and settings. At this point our website text content isn't yet indexed by the search engine. To force indexing we navigate to Administer -> Reports -> Status Report and manually initiate cron job by clicking the respective link. Make sure to test if indexing was a success by searching for words contained in your texts.
Set Up the Content Type
Drupal can generate two content types: page and story. Each of them is defined by the displayed attributes and level of accessibility allocatted within the site structure. The attributes can be changed at Administer -> Site Building -> Themes -> Configure -> Global. Of course, you're not confined with these two content types working with such a flexible system as Drupal. To create a custom content click Add Content Type tab at Administer -> Content Management -> Content Types. New content types are being automatically added when you install certain modules. Indispensable instrument for creating custom content types is Content Creation Kit which is very much recommended for download, installation and use by noobs.
Enable Clean URLs
Due to many meaningless symbols, Drupal default URL-addresses for pages aren't very SEO friendly. This in turn lowers the chances of your website pages to be indexed by the search engine and so reduces your website visibility on the Web. Since Drupal version 6 Clean URLs option has been enabled during the installation. However if for some reason you don't get it or run an earlier version of Drupal, you have to enable it through Administer -> Site Configuration -> Clean URLs checkmark Enabled option and saving the configuration. After that the URLs will look like http://www.mywebsite.com/node/4 instead of http://www.mywebsite.com/?q=/node/4
PathAuto Module Installation
Clean URLs are good, but still not good enough for search engines until they list meaningful URLs as the first priority. This module is a must to help our website get respect from search engines and be ranked higher in the search results. We download PathAuto and Token modules, install them and see the pages URLs formatted after their titles.
Run Blog on Drupal
When we've made sure that our URLs are clean and SEO friendly we can consider setting up a blog on our Drupal platform. First thing we do is branding our website with basic information, so that the visitors knew what it is about. It very easy: for this we just fill out the fields at Administer -> Site Configuration -> Site Information and invariably save configuration. If we want our blog entries and comments to be organized chronologically, we set the date and time for our blog. We do this at Administer -> Site Configuration -> Date and Time section. In the Blocks section at Administer -> Site Building we define the basic layout of our blog by assigning blocks to different locations on the page or disable them altogether using a convenient drag-and-drop tool or just selecting drop-down menus entries, and then we save blocks. In addition, Drupal allows for creation of custom blocks which is a good way to personalize your blog further. It's now time to actually post something on our blog. Amongst Drupal core content types 'Story' type fits blog the best. We navigate to Create content -> Story, fill out all fields and select all options necessary for our entry and finally save it.
Make Forum on Drupal
Another way of interaction with the site visitors is forum which comes as a core module in Drupal admin panel. Now we're going to enable it at Administer -> Site building -> Modules. Once Forum module is activated, Comment and Taxonomy modules get enabled automatically, we only need to activate Tracker module manually. Then we navigate to Administer -> Content management -> Forums and add a container by clicking the namesake Add Container link and setting its parameters (and not forgetting to save the configuration). Container is an umbrella category under which one or more actual forums will be placed. It helps to organize forums by topics. To add a forum to a category we click Add Forum link, define its settings, select the category from the Parent drop-down menu and save. In reality if we need a single general forum we may just make one without creating any categories at all. Once forum is set up an option 'Forum topic' is added to the list of content types under the Create Content menu item.
Use Drupal Themes for Easy Website Building
Drupal system consists of three independent layers: content, functionality and design. Each of them can be edited non-destructively for the remaining two. That means that if we wish we can change the design of our Drupal wesite every single day without affecting its content. All we need is to download a few Drupal themes, which are a pre-manufactured designs, upload them to separate subdirectories under the /themes directory of our Drupal installation and then activate one at Administer -> Site building – > Themes. Afte the theme is enabled, the 'configure' link appears whereby we can tweak the theme design further to our liking. Modern Drupal themes however quite often come not just with a design alone but also feature numerous built-in functions which enrich the website experience.
Please take a closer look at the selection of Drupal themes we have prepared for better illustration of the possibilities they provide a fresh Drupal user:
Solution Services Drupal Template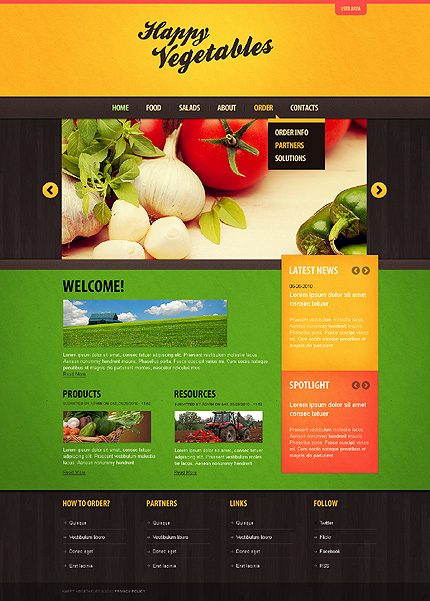 Window Need Animated Drupal Theme
Corporate Comapny Drupal Theme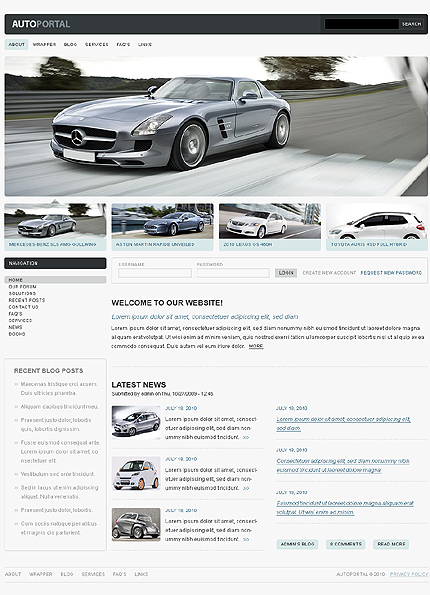 Creative Web Design Drupal Template
Related posts:
Follow FlashMint on Twitter for more awesome Flash Tutorials!

"Like" FlashMint FaceBook Page to stay in touch!